Reid was unable to begin digging himself but news spread and soon, Lovelock cave was attracting attention. Unfortunately, the attention was profit-driven as guano deposits were discovered inside. A company started by miners David Pugh and James Hart began excavating the precious resource in 1911 and had soon shipped more than 250 tons to a fertilizer company in San Francisco. Any artifacts that might have been discovered were probably neglected or lost.
After the surface layer of guano had been mined, strange objects started to surface. This led to an official excavation being performed in 1912 by the University of California, followed by another one in 1924. Reports told about thousands of artifacts being recovered, some of them being truly unusual.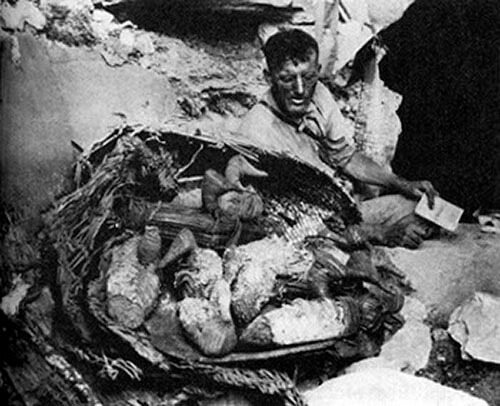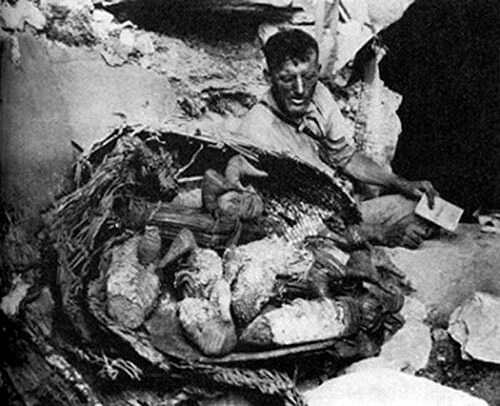 Although their claims have not been verified (it comes as no surprise), sources said the mummified remains of several red-haired ancient giants were found buried in the cave. Measuring between 8 to 10 feet in height, these mummies have since been referred to as the Lovelock Giants.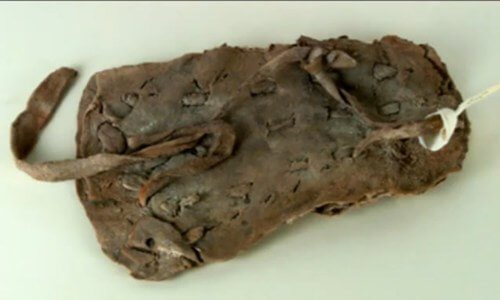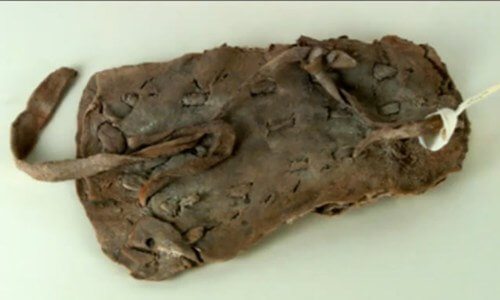 Another intriguing find was a pair of 15 inch-long sandals that showed signs of having been worn. Allegedly, other unusually large items were recovered but have since been locked away in museum warehouses and private collection.
A piece of evidence that remains on-site until this very day is a giant hand print, embedded on a boulder inside Lovelock Cave.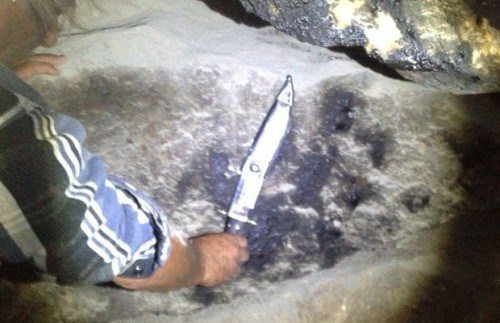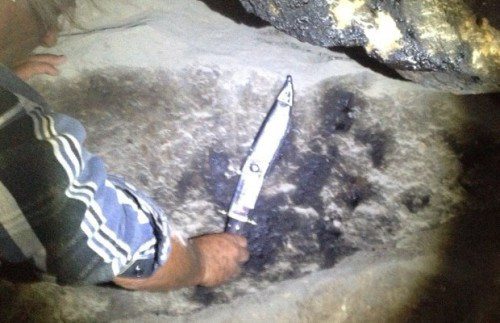 Needless to say, this discovery has led many into believing the Paiute legend of the Si-Te-Cah might be more than just folklore.
Around the same time as the second Lovelock Cave excavation, another dig revealed a set of equally-disturbing finds. According to a 1931 article published in the Nevada Review-Miner, two giant skeletons had been found buried in a dry lake bed close to Lovelock, Nevada. The over-sized remains measured 8.5, respectively 10 feet in height and were mummified in a manner similar to the one employed by ancient Egyptians.
Another common trait between these mummified giant remains and the ones discovered as far south as Lake Titicaca is the presence of red hair. While some scientists believe the reddish color is a result of the interaction with the environment in which they were buried, the mummies verify the legends, which described the Si-Te-Cah and their kin as red-haired giants.
Proponents of alternative history believe these violent giants were none other than the biblical Nephilim, the forsworn offspring of the 'Sons of God' with the 'daughters of men.'
If this is true, there's little chance we might get to see any of the giant mummies. Those interested in keeping history secret will never disclose their location.