During their brief stay on planet Earth, the Masters conducted more experiments in order to create a more sophisticated race of workers. They made Homo Habilis and Homo Erectus until they eventually developed a race able to think, speak and reproduce themselves, and so they created MAN also known as Homo Sapiens.
The chief scientist Enqi and the medical chief Ninti of the Anunnaki used genetic manipulation and in-vitro fertilization in order to create humans in their own image. The process consisted in the development of a biological body in a controlled, non-living environment, similar to a laboratory vessel or glass tubes as shown on the seal of an ancient Sumerian cylinder.
Man and Female created he them, and blessed them and called their name Adam, in the day when they were created. – Genesis 5:2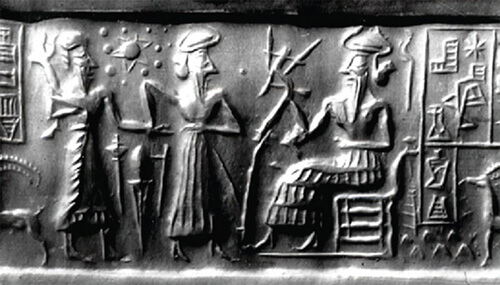 The Hebrew word for man is ADAM, referring not to a single person but rather more, in our case a tribe of human beings called Adamites or "Those who are of the ground."
After the Anunnaki created man – Homo Sapiens, they still confronted with one major problem: the slaves who escaped and scattered over a big portion of the planet. The solution came along with the Great Flood that was about to come as a result of what was happening in our solar system back then.
They mutually agreed upon leaving them all to die, unknowingly of what was to come. However, chief scientist Enqi who was one of the leaders, convinced the others that his latest creation – Homo Sapiens, was too complex and unique and deserved to live on this planet and so was finally decided. The events that followed brought the Great Flood, wiping humanity except for Homo Sapiens.
Recent scientific discoveries such as the Neolithic goldmines in southern Africa or the tracking of all human DNA back to a single source, called 'Eve" by the genesis have tended to confirm the interpretation of the Sumerian records.
And yet another intriguing fact is that scientist can't relate why Homo Sapiens has only been around for about 49,000 years, without any possible explanations about his sudden evolvement.
This study was based on Zecharia Sitchin's Earth Chronicles that present the forbidden history of the human species, based on countless studies and interpretations of the ancient civilizations that once thrived and developed using now-forgotten techniques.
Tesla Code Secrets

Click Here To Visit ---> Tesla Code Secrets
---
People Are Opening Their 3rd Eye & Grounding With Hape
Visit Four Visions Market & Get some Hape Here: https://www.fourvisionsmarket.com/tribe/healthywildfree/
Use the discount code: healthywildfree for 10% off your order!
Recommended Reading:
This Secret Frequency is What Genetic Physicists Use For DNA Repair & Will Make You Immune To Almost Anything

Genetic Physicists Have Proven 528 HZ To Create An Environment For DNA To Repair Itself.
Find Out How a Strange, Recluse, Scientific Genius (Tesla) Can Show You How To Get Anything & Everything You Want Out Of Life.
The Top 3 Ways To Open Your 3rd Eye
Why Has Tobacco Has Been Demonized By The Elites?
The Strange Powder That Shamans Use To Connect With UFO & Aliens
Why Are UFOlogists Blowing Tobacco Herb Mixes Up Their Nose?