How would you react if among your recently taken photos, a mysterious being would show up?
There are cases in which different apparitions show on photos taken in certain spots. Even though it comes hard to believe, it's possible for some places to hold unexplained energies that manifest through a simple picture. So what determines these things to appear on certain occasions?
According to some researchers, it's either because a temporary breach between our world and the spirit world opens, or because these ghostly appearances are invisible to our field of view and are only seen by chance in certain photos taken at the right time and place.
Such an apparition was witnessed last year at the Marble Falls, Texas. While trespassing on private property in order to take some beautiful pictures, a group of people was puzzled by a strange green, glowing shape that was standing right above the surface of the water. It only appears on one photo, but the green entity can be clearly observed and it comes hard to believe that what we're seeing is a camera anomaly or light reflection.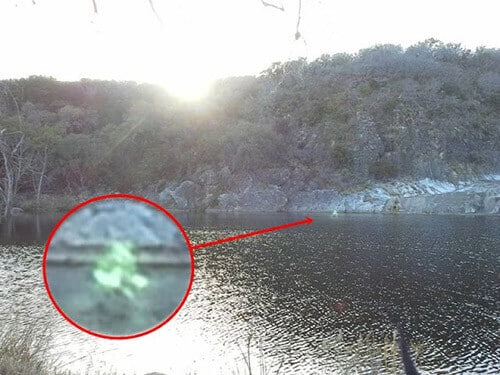 The strange case was recently reported to MUFON after a year in the shadows in the hope of finding a plausible explanation for the captured phenomenon. However, after analyzing the picture, no conclusive reason was given for it – the glowing entity remains a total mystery. As the eyewitness describes:
WE were on private property taking pictures of this area surrounded by hills and when we looked back at the pictures later that day, we saw this glowing object on the surface of the water. I had taken other pictures in succession and none of the others showed this object. I cannot explain what this glowing object it.
This spectacular picture reveals an unknown entity similar to a spirit or an alien being possibly dwelling inside the lake. Its shape is not that unclear as it reveals features similar to a human. If we look closely, a pair of legs can be distinguished along with what seems to be its hands. Other elements like shoulders, head and a pair of ears can also be interpreted. The entity appears to be standing on water and is radiating in a green color. If we zoom in on the picture, a pale shadow can be observed, therefore making it likely to be an authentic phenomenon.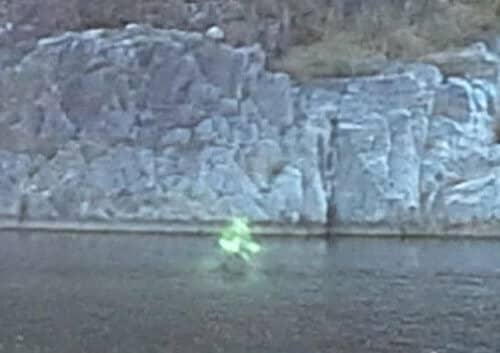 Even though the witness took several pictures of the same spot, the bizarre being only appears on one of them, but this is a good thing considering the chance for seeing such an apparition, which is quite small. Because of the perfect timing, the suns angle and the reflection from off the water caused this entity's cover up to shatter for a few moments, thus making it visible on camera. Could it be an actual alien being? Or is it the spirit of the lake?
According to some analysts investigating into this matter, the strange apparition could be the spirit of the place. To back up these claims, a possible doorway into the mountain was highlighted and is believed to be the secret entrance to its otherworldly lair.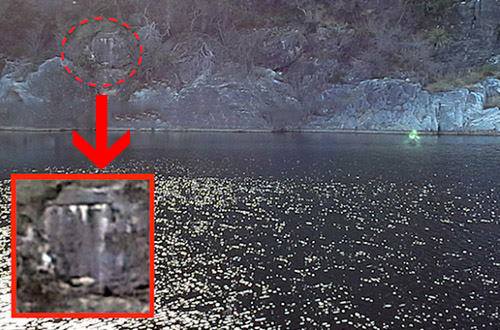 Other hypothesis point towards a possible alien base under the Texan lake because of the local stories depicting strange lights at night that are seen in the sky and also descending near the place where this picture was taken.
After considering a lot of possibilities, MUFON declared the case unsolved. What could this mysterious creature be, and from where does it come from? Is it possible that an interdimensional rift opened near the lake, allowing traveling spirits to come to our realm? Or is this in fact a lens anomaly, a fata morgana or even a strange reflection of the sun when it touches the water surface?