India has been an attractive region for UFOs lately, such objects being filmed over the skies of the capital city, New Delhi, and the Indira Gandhi airport.
Authorities have taken public notice and the air force pilots have received orders to fire at will on UFOs, if they return.
This time, a red glowing spacecraft landed somewhere in the west of India and put an entire village on their toes. Scared witnesses described a human like shape emerging from the UFO for a few seconds and retreating just before the ship went airborne, covered in what villagers saw as a glowing fire that was leaving sparks behind.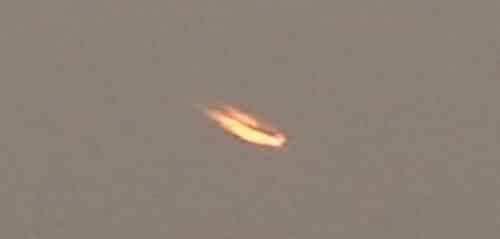 Investigators sent to Kangal to question witnesses, somewhere in the Mysuru region, concluded that :
The women claim that the spacecraft descended close to 500 feet from them and they could spot humanoid figures. They have no clue about aliens and they have not even heard about such things. So we are assuming that they are not lying."
There were 7 people who claim to have experienced the encounter, which took place in broad daylight on the 1st of October, at 2 o'clock in the afternoon.
They say the alien was wearing orange apparel and approached them in order to gather information or quickly study them, before reentering the UFO and taking off. The burning debris left behind is very unusual, as almost all UFOs encountered make no noise and leave no residue behind.
This particular UFO might have been plagued by technical difficulties and looking for the right place to gather the needed resources and proper hiding spot for repair. Indian UFOlogists have even claimed that this is the same UFO from the international airport, or at least a similar one, ran down by the Indian Air Force and probably damaged as a result.
Skeptics say that the villagers could've easily seen just a military aircraft, which would also be completely unknown and strange for farmers in that region of India. The skeptics, however, have failed to explain the orange suited alien.
As the Indian authorities are clearly taking this matter seriously, we can expect to hear more on the subject before too long.