We've been working hard to create the best UFO, Alien & Paranormal stories for several years now and we're excited to share that we just recently launched our youtube channel. We're releasing one new alien, ufo video each day. Make sure to head over to the UfoHolic youtube channel, subscribe and tap the bell in the top right for notifications to see new videos when they come out. Subscribe to our Ufo videos by clicking here. 
Several UFO reports from the Los Angeles area have surfaced this autumn. The strange flying objects were spotted during the night, performing "strange rituals" under the eyes of captivated witnesses.
With a considerable increase in drone purchases these days, it becomes rather hard to make a difference between an actual UFO sighting and these flying devices, especially when people fly them at night as a hobby.
The following video reveals how a pair of UFOs hover over the city of Los Angeles after dawn, and they would clearly pass as drones unless other evidence wouldn't point the other way. Even if an appearance is believed to be a drone, we have to be careful at its particularities that may sometimes reveal traits only otherwordly devices could possess.
In this case, similar reports were encountered in different parts of the globe, all of them exposing these bright UFOs that sometimes appear in a preset number of two, with the second one showing up a bit later, after the first UFO performs its bizarre ritual.
Other reports speak of an alleged mothership with small bright lights coming out of it, which makes us wonder if the same presumed drones can be seen in different areas of the planet with thousands of miles between them?
[youtube id="wx46e59Xwvg" align="center" mode="normal" autoplay="no" thumbnail="UFO Los Angeles Bright UFO INVASION" grow="no"]
The first part of the video shows how two mysterious bright lights play in the sky at a relatively low altitude, just over the tree tops. The strong luminosity of the objects forms a tail behind them as they fly around. After a few moments, one of them seems to descend and is followed by its twin shortly after. Because the lights never change colors and the two flying objects don't show any distinctive movement, also because of the altitude and the flight pattern, we tend to believe that the first part of the video only shows two drones or even two police helicopters on a mission. What do you believe to be the case?
The second part however, in our opinion, offers great evidence of UFO activity because this particular behavior can be tracked down to other parts of the world, also the altitude on which the object is hovering is not really suited for drones.
This bizarre behavior of growing brighter and back, the sudden disappearance and reappearance, as well as the strange change in light color indicates a specific type of UFO encountered by others this autumn. Another distinguishable characteristic is the second UFO appearing after a while into the picture. The same sighting was reported by countless people from Germany, USA, Colombia, Brazil and Romania. It has in common not one, but more elements described above.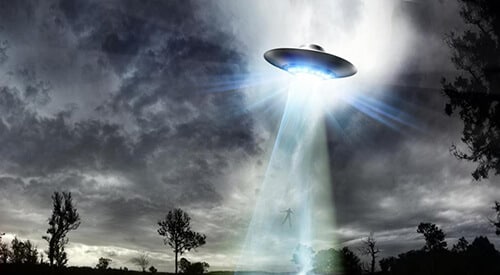 The two flying objects are found this time at a reasonable altitude. They perform the fade glowing move and after the second object comes into sight, it starts to slowly descend over an aerial base. It gets down really smooth and in a straight line, while also terminating its light so it doesn't get noticed or tracked by aware witnesses. After a few moments, the second UFO lowers its altitude with discretion, it turns off the light, probably pursuing the other craft.
Is it possible that these two flying objects are deliberately spying on relevant points of interest? A similar case of a UFO spying on an aerial military base in clear daylight was captured by the radar of a Black Hawk helicopter and also by the control tower.
Also several sightings perfectly resembling the second part of the video were filmed in Germany and USA, with many other witness reports from other countries. One such testimony comes from Brazil, from a group of hikers who were not into the UFO phenomenon until they encountered this peculiar event:
A strange sighting disturbed us while we were camping somewhere in the Roraima mountains, Brazil. At around 5 AM, I spotted a big bright dot in the sky right where the Sun is supposed to rise in the morning. At first I thought about a weird planet due to its ridiculous size and so I told my other friends about it. After staring at it for a couple of minutes, it begun to move oddly, drastically changing its trajectory.

It was then when we realized that was not a planet but the strangest thing we ever witnessed. It glowed so bright and then it turned the lights off. We were near a dense forest area so we used a tree to determine if it was actually moving because, I have to admit, we were kind of wasted…it proved to be extremely real, now my friends bought a telescope but don't share this experience to anyone because they are afraid that people will make fun of them and consider them mad men.
This now-common sighting has intrigued a lot of ufologists, intrigued about the common aspects appearing in different zones. Could we talk about a drone surveillance in this second case, or is it possible that we are being watched by the military using sophisticated technology? Do aliens have a role to play in this, or do all these have a rational explanation such as a weather balloon?
 As far as we are concerned, it seems very unlikely for one or two drones to hover over remote villages or over the mountainside at very high altitudes – what are the odds and what interest might a remote area pose to such an encounter?