Astronauts went out there and saw strange things that took a toll on their lives. Claudie Haigneré is one of them.
---
The incident took place in 2008 but was once again brought into attention by the controversial death of Max Spiers. Spiers was a British UFO investigator who was found dead on a friend's couch after texting his mother that she should start an investigation if anything happened to him. It seems that those who encounter or pursue extraterrestrials are destined to get in trouble.
Claudie Haigneré is a French doctor and politician but prior to that, she was an astronaut. In 1996, Claudie and her husband, Jean-Pierre Haigneré spent more than two weeks aboard the Russian MIR space station.
Having studied rheumatology and neuroscience, Claudie's outer space research aimed to provide insights about how astronauts adapted their motor and cognitive skills in zero gravity.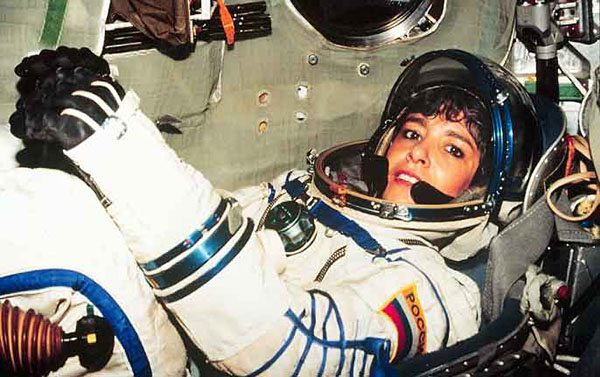 In 2001, she became the first European woman to visit the International Space Station. She saw things that regular Joes never get to see. And it probably left a mark on her.
Claudie retired from space work and between 2002 and 2005 she became involved with politics, acting as a minister delegate for research and new technologies. Following budget cuts, she started working in a biology lab at the Pasteur Institute in Paris. Obscure media reports claim that while there, Claudie was at the forefront of human/alien DNA research. And then things started going south for her.
In 2008, a fire ravaged the laboratory she worked in:

Fire broke out Wednesday in a biology laboratory at the Pasteur Institute in Paris, famed for research on fighting infectious diseases, officials said.

No victims were reported, and no sensitive materials or viruses were affected by the fire, which was extinguished by firefighters, an official at the institute said. The official was not authorized to be publicly named according to company policy.

The cause of the blaze was unclear.
In December of 2008, news outlets reported that Claudie Haigneré had to be rushed to a local hospital after an attempted suicide. She had taken a fistful of sleeping pills and was screaming "Earth must be warned!"
Before falling in a coma, Claudie had to be restrained. Such a strong reaction from a renowned and respected astronaut scientist could not have come without a cause. While Claudie herself blamed the whole incident on burnout syndrome, conspiracy theorists are convinced there was something darker that determined her to try and take her own life.
Sources claim that the former astronaut's stay in Earth's orbit opened her eyes regarding our planet's hidden history:
FSB internal reports on Dr. Haigneré state that since her return from space she had become convinced that our Earth had been visited in our historical past by 'ancient astronauts' who had not only had colonized our Planet but had genetically engineered the then existing semi-human life forms into our present day human race.
Claudie is alive and well today but she chooses not to speak publicly about her ordeal. We can only speculate about her reasons to remain silent, but sometimes, actions speak for themselves.