We've been working hard to create the best UFO, Alien & Paranormal stories for several years now and we're excited to share that we just recently launched our youtube channel. We're releasing one new alien, ufo video each day. Make sure to head over to the UfoHolic youtube channel, subscribe and tap the bell in the top right for notifications to see new videos when they come out. Subscribe to our Ufo videos by clicking here. 
We see them everywhere. People rocking NASA shirts like they're some sort of rocket scientist. Like the energy drink in their right-hand and the genetically engineered food in their left somehow makes them smarter if they wear a NASA shirt. NASA has become popular as a clothing brand, why is that? Let's take a minute to ask why and to question the origin of this "Space" organization that turns out to be quite, well, spacey.
NASA was founded July 29th, 1958. Since then billions of dollars have poured in funded by the US Federal Government. In fact, this year alone NASA had a budget of $19.9 billion dollars. What else happend on July 29th?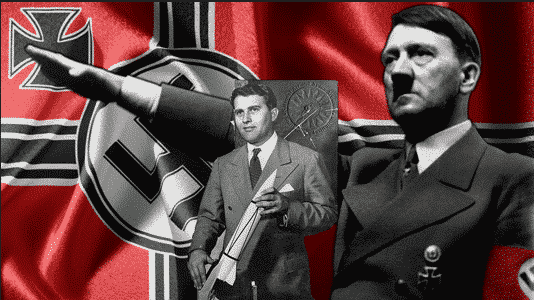 In 1921 Adolf Hitler became the leader of the National Socialist German Workers Party, on you guessed it, July 29th. NASA was founded on the same day 37 years later, that Hitler came into power on. Strange coincidence? This was the first tripwire that made me dig deeper. If you're read up at all you'll know that Hitler had quite the team of scientists and engineers who were creating rockets and biological warfare weapons.
Wait until you hear the full story.

1 of 365 days is 1/5th of 1% in terms of probabilities. That's unlikely to happen. It's like beating Russian Roulette over and over again. That just doesn't happen. Strangely enough, Neo's passport in the film the matrix has a one date (same probabilities as above) that we all know too. Read that story here.
About 20 billion dollars goes into space programs each year. That's a lot of money. To put into perspective how much money this is, take world hunger.
$30 billion dollars a year would end world hunger, according to the United Nations. That means the size of NASA's budget each year could feed 2 out of 3 hungry people worldwide. If NASA didn't exist and that money was rerouted, we could almost end world hunger. To date over $600 billion has been spent on space exploration, yet we haven't made it "back to the moon" since 1969.
Let's look at what NASA is doing, the history of its early beginnings and what your tax dollars do.
According to History.com: NASA has sponsored space expeditions, both human and mechanical, that have yielded vital information about the solar system and universe. It has also launched numerous earth-orbiting satellites that have been instrumental in everything from weather forecasting to navigation to communications.

Please correct me if i'm wrong, but doesn't Google Maps and T-mobile have weather and communications locked down?
Someone please tell me.. what information has NASA given us to improve our quality of life?
Government Funded: Operation Paperclip
Operation paperclip was an operation run by the US Government. The JIOA (joint intelligence objectives agency) carried this out by special agents of the army. This operation brought in 1,600 Nazi scientists, engineers and technicians from Germany. Wernher von Braun and his V-2 rocket team were recruited from Germany to America for employment within the US Government. Most of which were members or leaders from the Nazi party.

A factory at which Von Braun worked was reported to kill the 5 slowest working Jews each week. International organizations alike agree that if he were alive today he would be convicted of war crimes.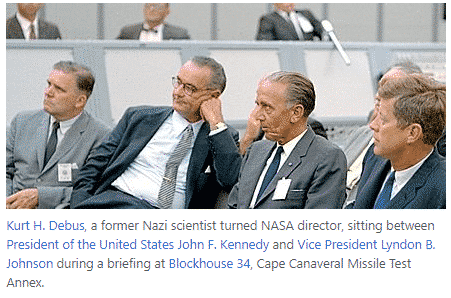 The main purpose of Operation Paperclip was U.S. military advantage in the Soviet–American Cold War, and the Space Race.
Weird History Behind NASA
If you look up the origin of the word "NASA" in Hebrew (the Jewish language) it means to deceive. So we have Nazi German scientists, engineers and technicians working for a space organization called "NASA" that means to deceive. Could these Nazi's had a part in naming NASA (nasah)? What is going on here?

in Hebrew the word is not pronounced "naSa" but instead pronounced "nâSHâ'" (with the "sh" sound as opposed to the "s" sound). The word means – naw-shaw'; a primitive root; to lead astray, i.e. (mentally) to delude, or (morally) to seduce:—beguile, deceive, × greatly, × utterly.
NASA is notorious known for having members of which who are Freemasons, Nazis and occultists in its ranks – especially during its inception. These types of people also tend to be Kabbalists and mystics.
NASA Logo Has A Serpent Tongue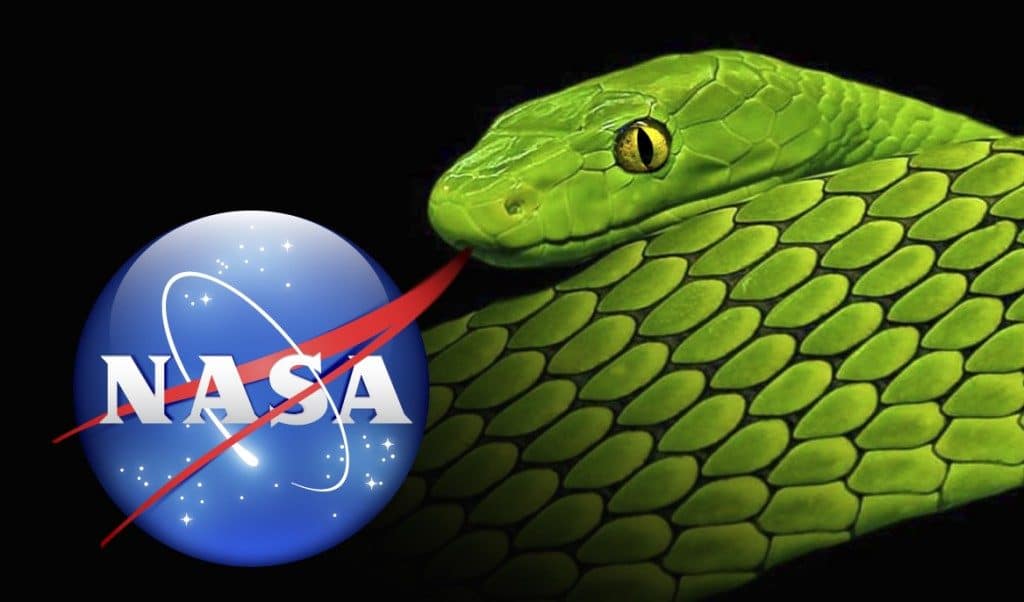 The red line through the NASA logo is said to be a serpents tongue. The serpent in the bible being the snake that deceived eve to eat the forbidden fruit. The word "NASA" (pronounced nasha) in Hebrew means to deceive. The serpents tongue represents the snake that deceived Eve.

It's clear that there are some deep dark roots in Nasa. From the July 29th date that Hitler came into power to the July 29th date that NASA was started, with former Nazi leaders being a part of NASA. The Government knows more than we do. People that work within NASA know more than we do.

Joe Rogan had a guest by the name of Annie Jacobsen on his podcast recently, earlier this year. Annie is the author of Operation Paperclip: The Secret Intelligence Program That Brought Nazi Scientists To America. Among other books such as Area 51: An Uncensored History Of Americas Top Military Base. She shares many stories about the Nazi's that entered Nasa and interviews she's had with some of the descendants of Nazi's in an interview with Joe Rogan.
You can watch that interview here: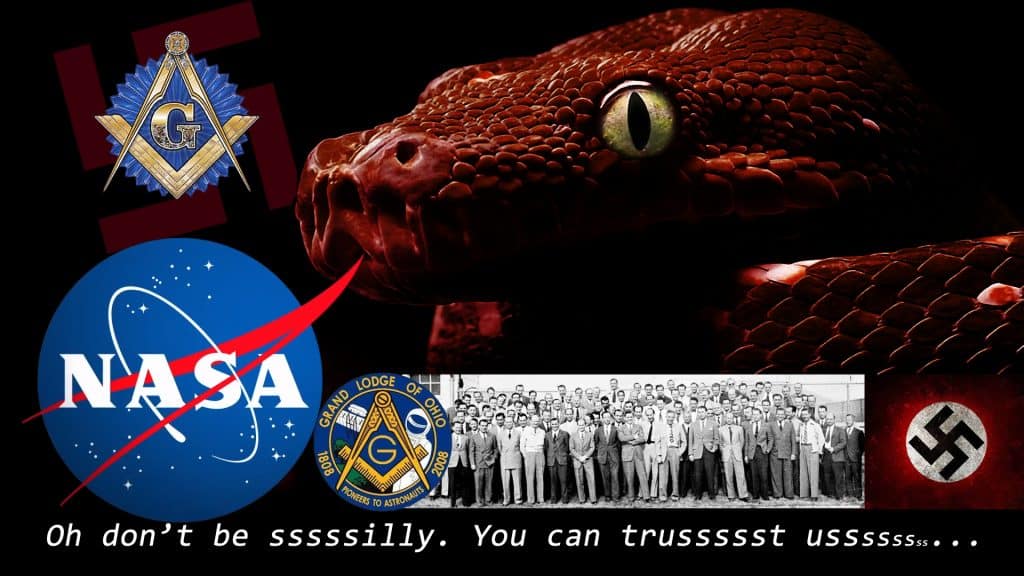 To get more exclusive UFO, alien and updates on conspiracies you won't read anywhere else be sure to sign up for our facebook newsletter by clicking here.
People Are Opening Their 3rd Eye & Grounding With Hape
Use the discount code healthywildfree for 10% off your order!
Recommended Reading:
The Top 3 Ways To Open Your 3rd Eye
Tobacco Has Been Demonized By The Elites
The Strange Powder That Shamans Use To Connect With UFO & Aliens
---
People Are Redefining Their Defense Mechanisms With Radiate Immunity
Visit Radiate Immunity and Get Full Shield Immunity At: RadiateImmunity.com
Use the discount code: ufoholic for 10% off your order!