We've been working hard to create the best UFO, Alien & Paranormal stories for several years now and we're excited to share that we just recently launched our youtube channel. We're releasing one new alien, ufo video each day. Make sure to head over to the UfoHolic youtube channel, subscribe and tap the bell in the top right for notifications to see new videos when they come out. Subscribe to our Ufo videos by clicking here. 
Archaeologists have discovered and unearthed 19 humanlike wooden idols, some of them are wearing beige clay masks on their faces, in the ancient city of Chan Chan, Peru, the Ministry of Culture shares.
The idols are more than 750-years-old and are hand-carved. They stand nearly 28 inches tall, equivalent to about two bowling-ball pins stacked on top of one another. The idols were discovered in a rectangular recessed area that lines an adobe-made hallway.
These idols are the oldest yet discovered at the Chan Chan archaeological complex in northern Peru, which was once upon a time the capital of the Chimú Kingdom, a culture that lasted from about 900 A.D. to 1430, when it fell to the Incan Empire.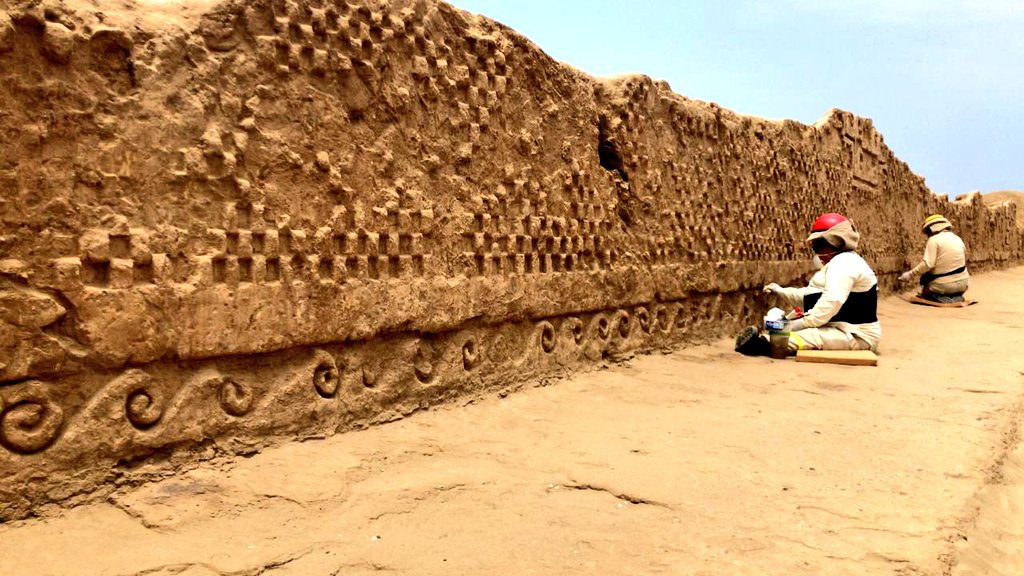 Chan Chan is a recognized World Heritage Site with the United Nations Educational, Scientific and Cultural Organization (UNESCO) since 1986, but the idol-lined corridor was found only recently, the ministry shared.
"In the passageway, recently found in the citadel of Chan Chan, 19 wooden idols covered with clay masks have been found," Patricia Balbuena, Peru's head of the Ministry of Culture, said in statement. Above the idols, the passageway has decorated walls, which include motifs of wave and landscapes, as well as animal-like images that feature a cat or lunar animal, she said.
Anybody who was walking down this passage would have been struck and stopped in their tracks by the mysterious wooden idols. Each statue in the set was carved in its own unique way, and some wear clay masks, while others dont. Others carry a staff in one hand and are also carrying a circular object that could be very well be a shield.
In an Oct. 22 tweet, Balbuena wrote (in Spanish, but translated here), "I am happy with my visit to Trujillo, my hometown, to report new findings in ChanChan, and report on the project 'Altura para la cultura,' which seeks to recover buildings that are cultural heritage. Grateful for the recognition of the Municipality of Trujillo."
Source: https://www.livescience.com/63940-wooden-idols-peru-archaeology.html
People Are Opening Their 3rd Eye & Grounding With Hape
Use the discount code healthywildfree for 10% off your order!
Recommended Reading:
The Top 3 Ways To Open Your 3rd Eye
Tobacco Has Been Demonized By The Elites
The Strange Powder That Shamans Use To Connect With UFO & Aliens