A man by the name of Constantinos "Danny" Filippidis, 49, a firefighter from Toronto, was last seen at the Wilmington ski area last month. He was skiing in in New York with fellow firefighters. He went missing at the end of the ski day.
His friends and family  scoured the mountain in search for him but could not find him.
The media shared:
Meanwhile rescuers continue their search. "We're looking for anything that might just be out of the ordinary that will help us find him," Lundin said.
Filippidis was last seen wearing a green ski jacket, black helmet and red skis. He's described as 5-feet-10-inches tall, 220 pounds, with brown eyes and black hair. Anyone who has information or has seen Filippidis is asked to call New York State Police.
They put out fliers: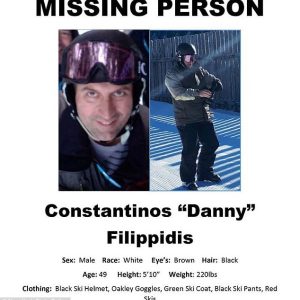 On February 14, 6 days later. Danny mysteriously showed up in Sacramento, California, 4,600 kilometers from the mountain he was skying on, where he disappeared. He called his wife and rescuers 911, saying that he had no idea where he was and how he turned out to be.
Crazy part about this entire story is that he was all wearing the same ski clothes he was wearing 6 days earlier. This includes a helmet and glasses. The skis were gone though.
Watch the news story: 
The musician Nahko from the band "Nahko and medicine for the people" tweeted:
What are your thoughts? alien abduction? a portal?
http://www.mynbc5.com/article/missing-whiteface-skier-found-in-california/17764938
People Are Opening Their 3rd Eye & Grounding With Hape
Use the discount code healthywildfree for 10% off your order!
Recommended Reading:
The Top 3 Ways To Open Your 3rd Eye
Tobacco Has Been Demonized By The Elites
The Strange Powder That Shamans Use To Connect With UFO & Aliens
---
People Are Redefining Their Defense Mechanisms With Radiate Immunity
Visit Radiate Immunity and Get Full Shield Immunity At: RadiateImmunity.com
Use the discount code: ufoholic for 10% off your order!