We've been working hard to create the best UFO, Alien & Paranormal stories for several years now and we're excited to share that we just recently launched our youtube channel. We're releasing one new alien, ufo video each day. Make sure to head over to the UfoHolic youtube channel, subscribe and tap the bell in the top right for notifications to see new videos when they come out. Subscribe to our Ufo videos by clicking here. 
A man hiking in the U.K. captured some amazing hard to believe photos of what appears to be a glowing angel in the sky. A weather incident caused the angel in the sky to appear.
Lee Howdle was out walking in the Peak District National Park in Derbyshire, central England last week. He noticed a misty shadow off in the distance according to SWNS, a news agency.
Thankfully Lee Howdle is a skilled photographer. He snapped images of the amazing scene with his Canon 5d Mk4 camera. "My shadow looked huge. It was in this circular rainbow," he told SWNS. "I took some photos of it and carried on walking. It was like an angel in the sky over the hills, it was quite magical."
The weather phenomenon that occurred is known as a "brocken specter" or "mountain specter" and is among the "top ten spookiest weather conditions" listed by the U.K.'s Met Office. A rare occurrence indeed.
Take a Look at the Images: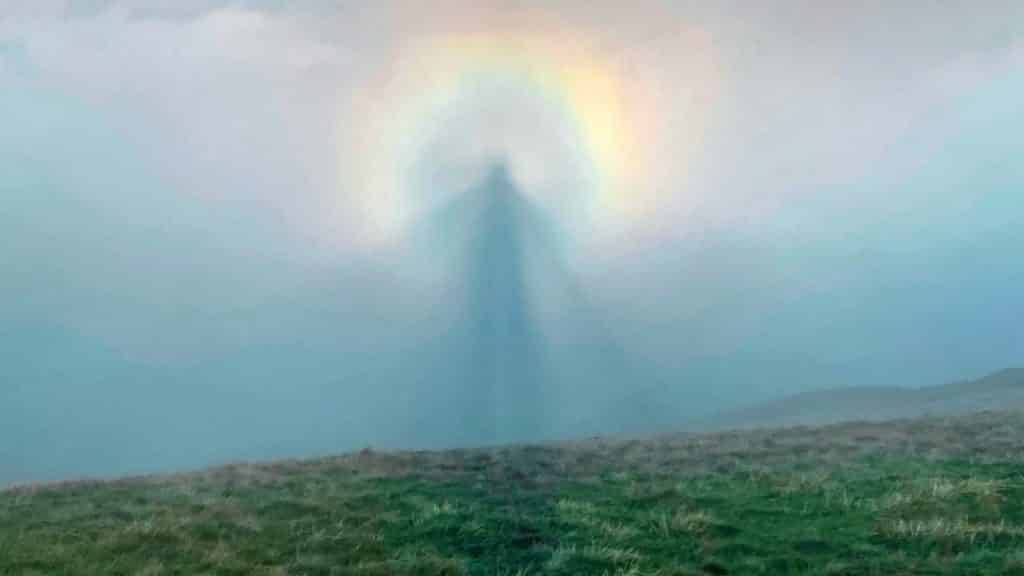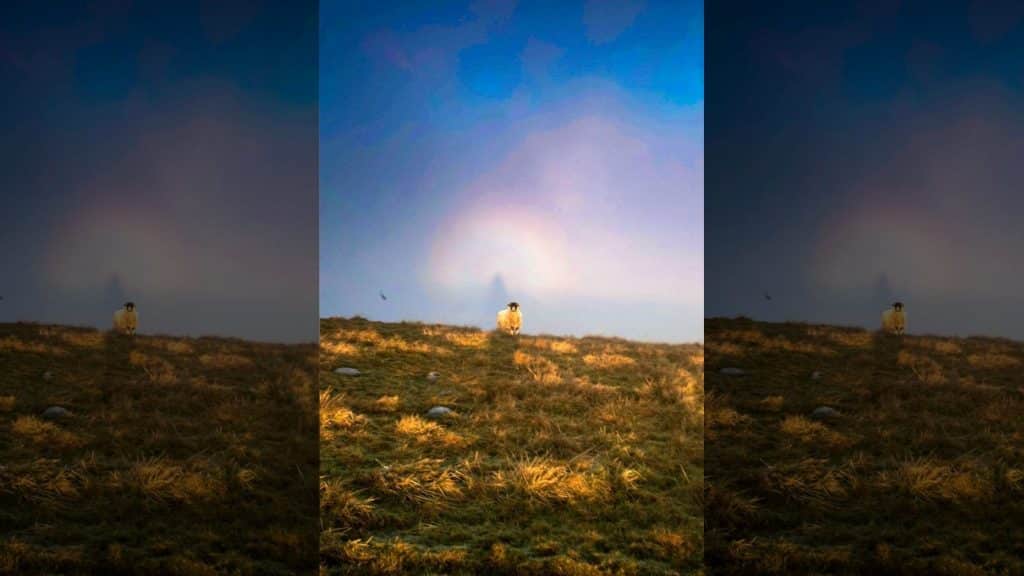 The appearance happens when an observer stands above the upper surface of a cloud – on a mountain or high ground – with the sun behind them," it explains online. "When they view their shadow the light is reflected back in such a way that a spooky circular 'glory' appears around the point directly opposite the sun."
The EarthSky shares that the shadow cast in the weather phenomenon "may appear enormous and has a ring around it."
This weather occurrence is named after the Brocken mountain in northern Germany.
Howdle stood on Mam Tor, a 1,696-foot hill in the High Peak area of the National Park when he saw the unusual "Brocken specter."

"I have never seen this before in my life. I read about it once on the internet," he told SWNS. It's really amazing and I feel very blessed to have captured such a magical moment."

Source: https://www.foxnews.com/science/incredible-angel-in-the-sky-caught-on-camera-weather-phenomenon
People Are Opening Their 3rd Eye & Grounding With Hape
Use the discount code healthywildfree for 10% off your order!
Recommended Reading:
The Top 3 Ways To Open Your 3rd Eye
Tobacco Has Been Demonized By The Elites
The Strange Powder That Shamans Use To Connect With UFO & Aliens