We've been working hard to create the best UFO, Alien & Paranormal stories for several years now and we're excited to share that we just recently launched our youtube channel. We're releasing one new alien, ufo video each day. Make sure to head over to the UfoHolic youtube channel, subscribe and tap the bell in the top right for notifications to see new videos when they come out. Subscribe to our Ufo videos by clicking here. 
A photo, taken about 120 years ago in the Yukon territory of Canada has come to surface. It shows what appears to be Greta Thunberg, climate activist, only 120 years earlier. This photo was taken long before Ms. Thunberg's birth, and has been discovered in Washington state. It features 3-children with one of them looking exactly like Greta Thunberg. To the tee.
Some say that the photo proves that time travel is real. Others give credit to reincarnation. Others say that it's a child that bears very strikingly similar appearance, right down to her hair.
Take a look at the photo of what some are claiming to be Greta Thunberg.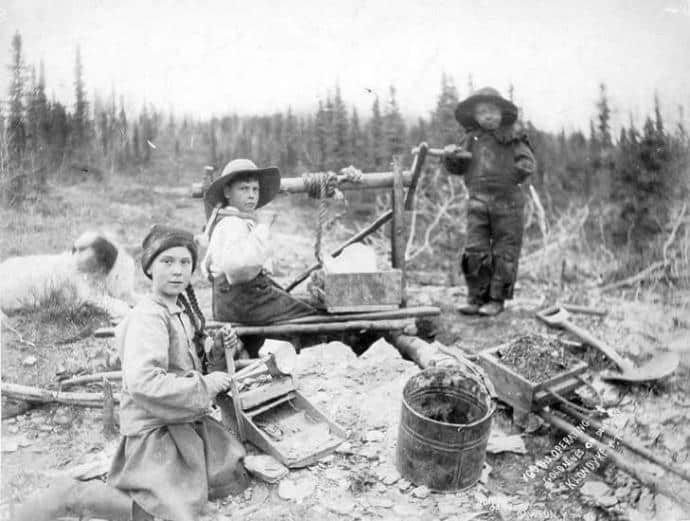 This antique photo was taken between 1897 to 1899. This was a period during the Klondike gold rush in Canada's Yukon Territory. The girl and children pictured appear to be operating some sort of gold mining operation with sifting equipment around them.
Other theories have stated that Greta may be related to this child, that this may be her great grandmother, or great great grandmother.

Even then Greta Thunburg is from Sweden however, a long way from the westernmost Yukon Territory of Canada.

Was this photo placed here for a reason? To show that time travel or reincarnation is real?

Others say that Greta Thunburg is a puppet for the elites and their climate change agenda.

Whatever the truth is, the question remains, who is in this photo and how is the resemblance so similar yet their 120 year timeline and the Atlantic ocean between Sweden and Canada set them apart?

Do you think this photo proves anything? Do you think it's a glitch in the matrix?
Is she a time traveler or what? The photograph can be found at the University of Washington's digital collection.
People Are Opening Their 3rd Eye & Grounding With Hape
Use the discount code healthywildfree for 10% off your order!
Recommended Reading:
The Top 3 Ways To Open Your 3rd Eye
Tobacco Has Been Demonized By The Elites
The Strange Powder That Shamans Use To Connect With UFO & Aliens