We've been working hard to create the best UFO, Alien & Paranormal stories for several years now and we're excited to share that we just recently launched our youtube channel. We're releasing one new alien, ufo video each day. Make sure to head over to the UfoHolic youtube channel, subscribe and tap the bell in the top right for notifications to see new videos when they come out. Subscribe to our Ufo videos by clicking here. 
In the 1940's, an archaeologist by the name of Ionita Florea stumbled upon a giant skeleton during an excavation in Argedava Romania.
Growing up, we've heard stories and legends of giants who shook the earth with every step they took. Can historical evidence explain stories that have been kept secret from the world for thousands of years?
There are number of finding that surfaced which shed light on the reality of these enormous beings who shared the earth with humans long ago.
Florea, Argedava Romania
Florea, an archaeologist working with his team trying to find valuable objects that belonged to Burebista, the Decian leader of the largest citadel, came across a skeleton skull about 3 times the size of a human skull in 1940.
Sadly, once news broke of Florea's discovery, he and the team of archaeologists working with him were pushed aside.
Unknown researchers took over the excavation. It is said that more than 80 skeletons of giants was found at the site of the excavation, all of which have since disappeared.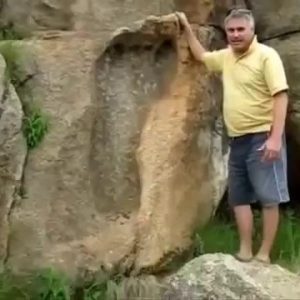 Residents of Scaiena
In recent years, the people of Scaiena discovered the skeletons of ancient giants. It is said that a large number of remains was found to the surprise of the residents.
It seemed as though the area was a cemetery  of giants and was discovered when residents were getting ready to plant an apple orchard at the site.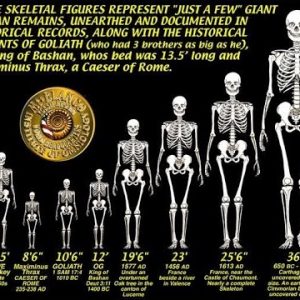 Threatening Warnings
Anyone who came across the remains of these giants and tried to expose this reality to the world were threatened by unknown forces.
In 2009, a journalist working for a local news channel started an investigation into the findings. The journalist was threatened and warned about the dangers of his search. The journalist today does not speak of the ordeal that shook his life.
The reason giants are kept secret is still unknown. They are a mystery in today's world and the unearthing of their skeletons is a step closer to the truth. 
People Are Opening Their 3rd Eye & Grounding With Hape
Use the discount code healthywildfree for 10% off your order!
Recommended Reading:
The Top 3 Ways To Open Your 3rd Eye
Tobacco Has Been Demonized By The Elites
The Strange Powder That Shamans Use To Connect With UFO & Aliens